In a business and marketing world dominated by imagery, visual branding is an important process in promoting your company. To capture viewers' attention and become a memorable brand, your visuals – photos, videos, graphics, and more – have to be cohesive and consistent.
In this article, we'll discuss everything you need to know about visual branding. Continue reading to learn what visual branding is, why it's important, the elements of visual branding, how to create a unique and memorable visual brand, and more. 
What Is Visual Branding?
Visual branding is the use of visuals to brand your business. Specifically, it's the process of aligning all of your company's visuals and marketing imagery with your brand identity.
While it can be considered a subsidiary of general business branding, visual branding is comprised of several elements of your brand's identity. These elements include:
Since visual branding is one part of building a brand for your business, it incorporates the foundation of basic branding principles. Most notably, your visual brand should align with your overarching brand mission, purpose, vision, and values.
Why Is It Important To Build A Visual Brand Identity?
Visual branding is all about taking your existing brand identity and visualizing it. In today's market, there are vast audiences within your reach. Thanks to technological advances, marketing your brand online can place your company in front of relevant consumers around the globe.
Whether you're reaching for the stars or trying to build a hyperlocal customer base, visual content is the dominant form of connecting with your target audience. More importantly, visuals capture attention. Visual marketing is the most effective way for consumers to process, retain, and recall information about your brand.
In the sections below, I'll expand upon specific reasons why it's important to build your organization's visual brand.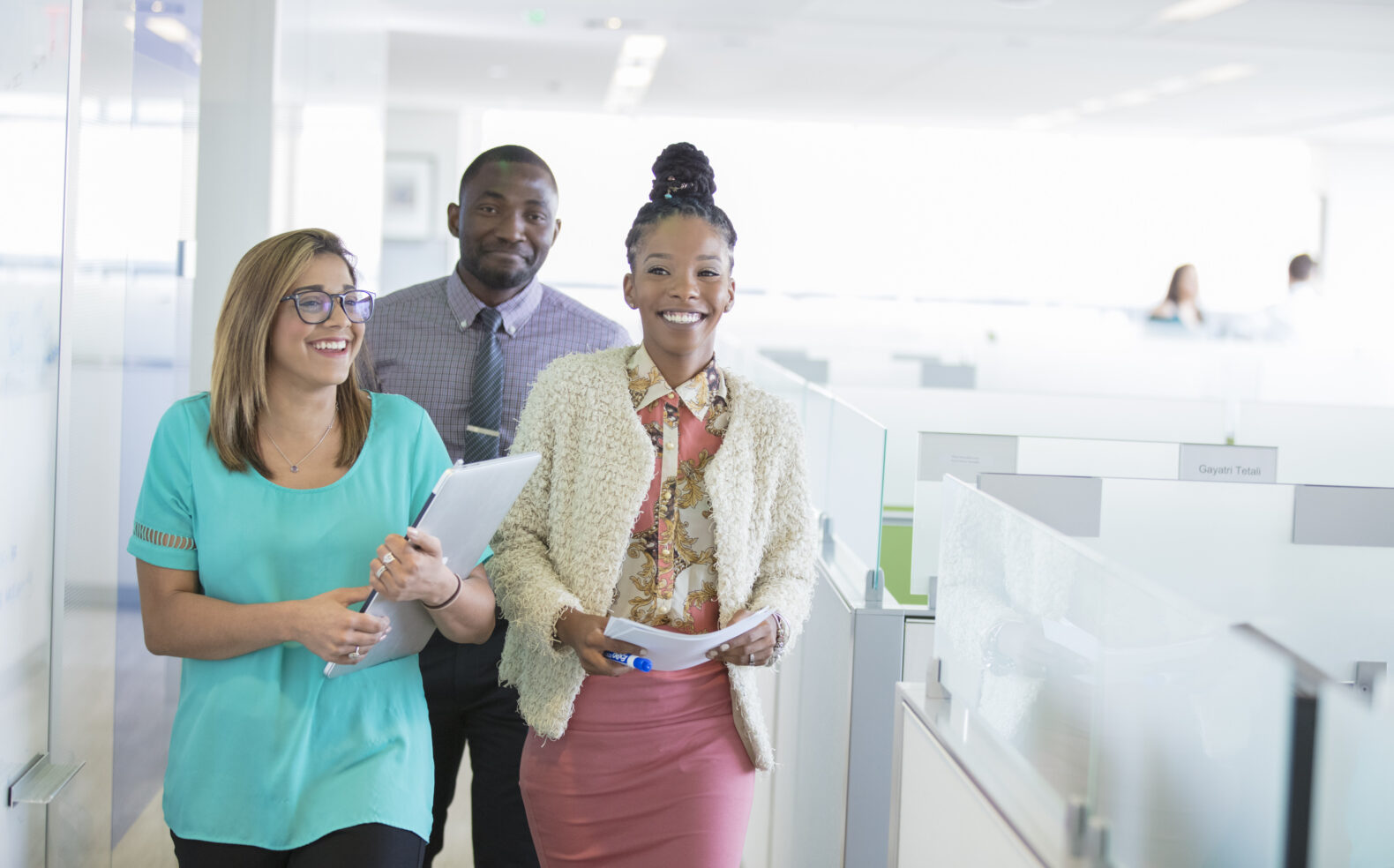 Visualize Your Brand Personality  
A core component of a brand's identity is personality. It's the humanization of your brand that channels characteristics of your target audience.
Brand personality plays a role in every aspect of marketing your brand – the style in which your written copy is composed, the tone and energy of voice-over ads, and the narrative or style of the pictures on your website.
As I mentioned, we live in a visually dominant society. The best way to capture the attention of viewers and connect with them emotionally is to build a visual brand that your target audience relates to. Finding ways to create an aesthetic in your photos and videos that represent the traits and qualities your support base finds endearing.
If you own a law firm specializing in workplace injury cases, your visual brand personality could emphasize trust, organization, dedication, and empathy. Incorporate candid commercial lifestyle images of interactions with clients. Showcase scenarios where you and your client are smiling enthusiastically – depicting the narrative of a big win in the courtroom to resolve the client's pain point in life. 
Visualizing your brand personality isn't always about mimicking the traits of your target audience. Rather, some businesses – like the law firm example above – craft the personality traits that their audience needs to connect with.
Help Your Audience Learn About Your Business
While your brand doesn't always have to directly reflect your product or service, the only way to convert consumers into customers is by telling them what you do. In the case of visual branding, show them what products you make or services you offer.
If you're in the pharmaceutical field, your visual brand identity needs to reflect multiple characteristics – professional expertise in the lab and effective treatment results through increased quality of life.
Patients need to believe that your company is ethical and trustworthy, your product is safe and effective, and the investment will resolve their pain points. A diverse library of visual assets can take consumers into labs and display advanced, groundbreaking research that takes place in state-of-the-art facilities. The visual representation of successful treatment can include a campaign of marketing images where a patient enjoys activities they couldn't before using your product.
Make A Strong First Impression
To capture attention in the brief moments a consumer gives your brand, first impressions are everything. While scrolling through a sea of content, high-quality branded visuals help capture the attention of consumers who resonate with your message.
Pictures and videos that take viewers inside an auto manufacturing plant will pique the interest of both avid car buffs and consumers looking for a quality vehicle. Whether you're providing a niche audience of auto gurus with specific information or a general audience of potential buyers with transparency behind who and what goes into the manufacturing process depends on your brand's identity and purpose.
Whomever your target audience is comprised of, strategic visual branding can help make a strong first impression.
Create An Emotional Connection
I've emphasized this in almost every post I write on branding – the key to gaining loyal supporters is fostering an emotional connection with relevant consumers. Create content that your target audience resonates with. Incorporate your brand personality into a visual asset library that you can use across various mediums.
Senior living facilities have a unique customer base. It's usually one of two demographics: either an older individual who knows they can't live on their own anymore or the child of an older individual who is making that decision for them.
Either way, visual branding is the best way to emotionally connect with both audience segments. Videos and images that emphasize the quality of life and level of independence that assisted living facilities provide can ease the nerves of a prospective resident.
Stale, generic stock photos don't represent the facility and scare potential customers away. On-brand, custom senior living photos help relieve the negative emotions associated with moving into a home and emphasize the positive emotions of joining a living community.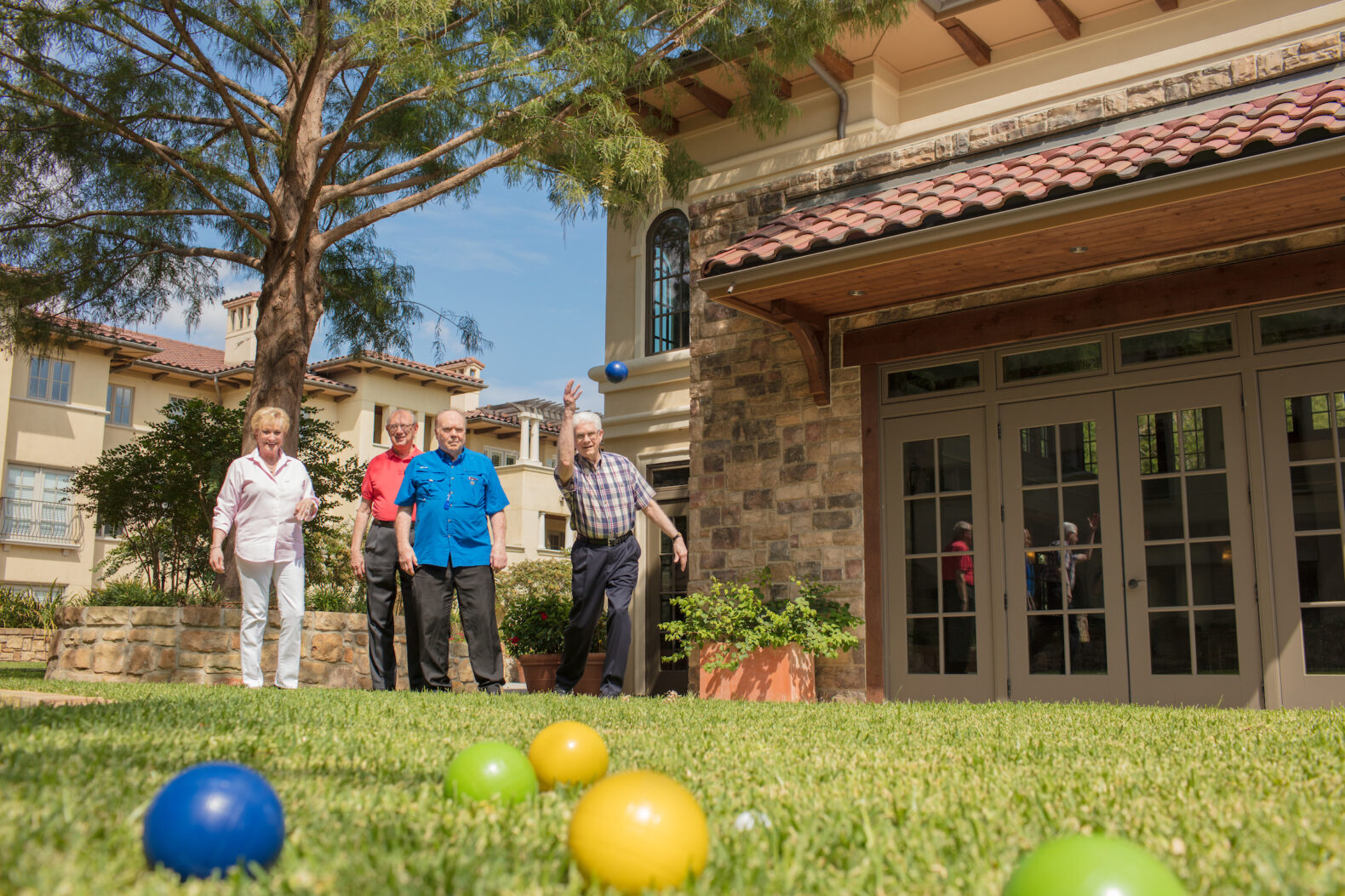 Build Trust With Your Support Base
With millions of brands out there, it's difficult for consumers to decipher which ones are genuine and trustworthy. One of the best ways to earn trust is by building an authentic visual brand. All of your website imagery, promotional videos, and visual ad campaigns help to establish trust with the general public.
This applies to internal operations as well – how your employees and prospective employees view your brand as a workplace and in general. If you're a tech company using stock office photos in your recruitment marketing materials, nobody is going to want to work for you. 
On the flip side, custom imagery that displays modern (or even futuristic) office space and genuine interactions between real coworkers builds a strong employer brand. A brand that budding tech professionals trust is a workplace that they'll thrive in and will benefit their careers.
Establish A Consistent, Cohesive Brand
The best piece of advice to successfully branding your business – especially visually – is this: consistency is key. A consistent look through all of your images, videos, and other graphics will make it easier for your brand to become recognizable. Every time someone scrolls past one of your marketing images, they'll be able to tell it's your brand.
Because visual branding is part of general business branding, all components of your brand must be cohesive and aligned. Your copy needs to sound how your images look. The aesthetic of your website should match that of your social media profiles. Every piece of content or asset that represents your brand should portray just that: your purpose, vision, mission, and values.
What Elements Make Up A Visual Branding Strategy?
What is a visual branding strategy? It's your calculated approach in the steps you take to create and maintain your visual brand. Several elements make up your visual branding strategy.
Logo: Your logo is a memorable graphic representation of your brand. It's simple, but one of the most important elements as it serves as the visual symbol of your organization. 
Typography: The style of font that you use across all of your business assets communicates your values and personality. Whether on your website or a print ad, strategic typography impacts how consumers perceive your brand. 
Brand colors: Colors can subconsciously tap into the consumer's emotions and lead them to feel a certain way. Using color psychology to select brand colors helps to shape your brand image. 
Graphics: Elements of graphic design can be used for all forms of communication. Different shapes, patterns, textures, negative and positive space, linework, icons, formatting, and more all help shape a consistent look for your visual brand. 
Imagery: All of the photos and videos you use across your business make up your brand imagery. Imagery is the meat and potatoes of your visual brand – it's the core of your aesthetic and the best way to spread your brand narrative visually.
How To Create A Visual Brand Identity
Now that you understand the importance of a visual brand and the elements it's made up of, it's time for you to create your visual brand identity. There are several steps to take that help you make sure that your visual brand aligns with your corporate brand and business as a whole.
In the subsequent sections, I'll break down specific steps that you can take to best approach the visual branding process strategically.
Define And Understand Your Overall Brand Strategy
You cannot build a visual brand if you don't have a firm grasp on the why behind your business. A sound understanding of your brand story – why you do what you do, the values that drive your company, etc. – is the foundation of your strategy.
Know your brand inside and out. That includes your brand identity and personality traits/characteristics you need to portray visually. Define your target audience and align your visual messaging with their wants, needs, traits, qualities, characteristics, preferences, and emotions.
See What Competitors Are Doing
A large part of visual branding is finding your place in the existing market. To do so, you have to analyze the strategies of your direct competitors. How are they incorporating visuals into their overall branding strategy? What is their brand story or what angle are they taking to differentiate themselves from the competition? What can you do to differentiate yourself from them?
By researching your competitors, you'll get a better idea of what you're doing well, what they're doing well, and areas where there's a gap that you can fill. 
For example, if all of your competitors heavily focus on marketing products then you can find a gap for promoting the process behind your products. By taking users into your facility with manufacturing photography, you take a unique human-centric approach to branding your products – genuine transparency that can lead to emotional connection.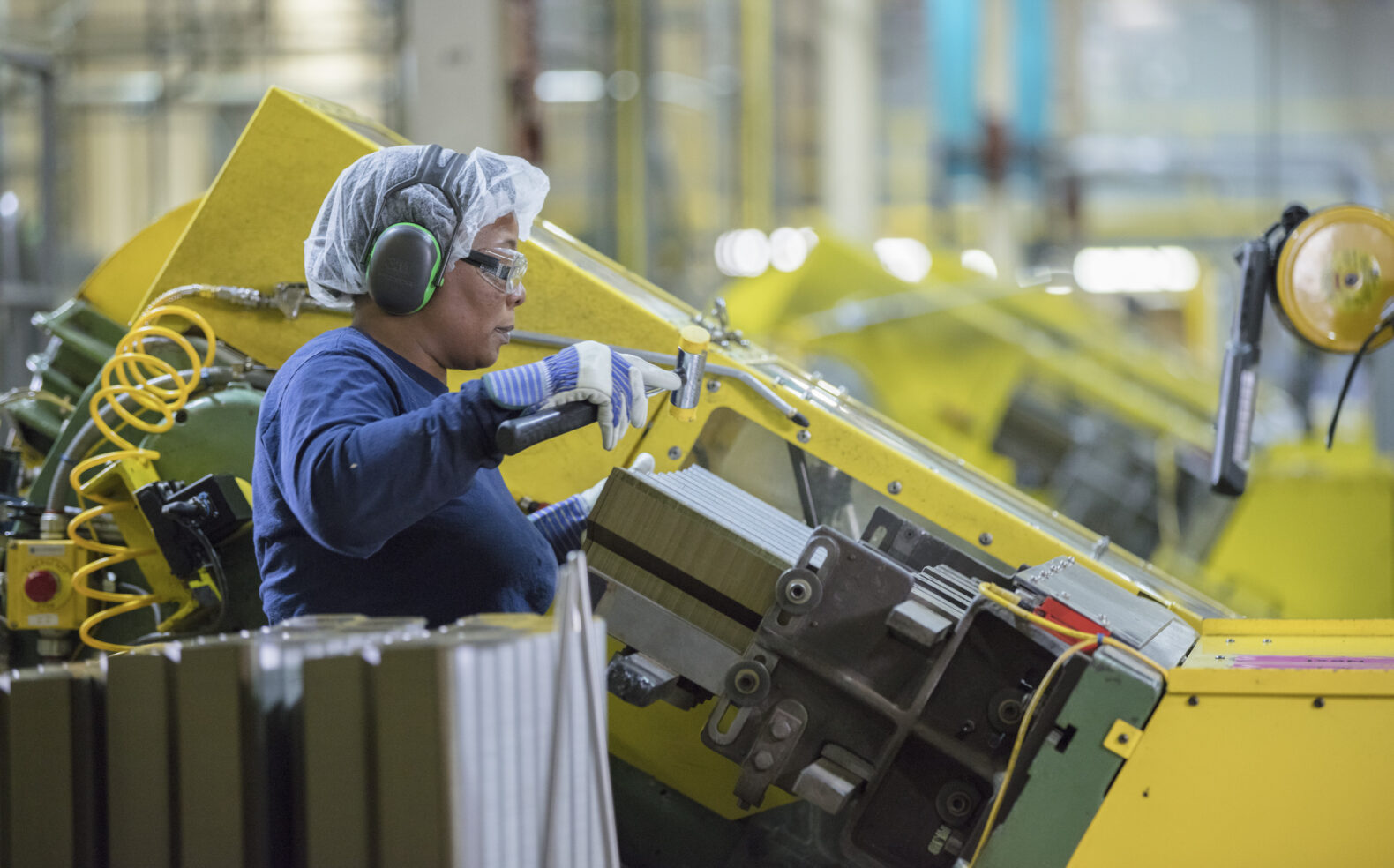 Design A Logo
The official symbol of your business, your logo is one of the most recognizable elements of your brand. Whether you have an in-house graphic designer or need to outsource, your logo should be simplistic yet align with the deeper meaning of your brand.
Create A Brand Style Guide (If You Don't Already Have One)
A brand style guide is an all-encompassing resource that defines what it means to be on-brand. It provides specific examples and guidelines including font/typography, colors, voice, tone, and any other element of your brand identity.
In visual branding, a style guide is useful in making sure your image remains consistent. No matter who is working on it, every employee, contractor, or other member of your team can follow the guide to make sure the end result is on brand.
If you already have a style guide, you're ahead of the game! That doesn't mean you can't revisit it to make sure the information is accurate. It's a smart idea to regularly review and update your branding.
Brainstorm
Once you have your logo and brand style guide, start brainstorming what a visual branding strategy looks like for your business. It's helpful to think about the various components of your business and promotion that utilize visuals. 
Specifically focus on your website, digital and print advertisements, and social media presence. Develop a plan for rolling out a consistent visual brand across all of those mediums and beyond.
Schedule A Business Branding Photoshoot
A game-changer in visual branding is custom commercial photography. A business branding photo shoot will provide you with a wide range of on-brand, professional images to utilize across all mediums.
It's important to find the right photographer for your brand. Look for a photographer with experience in business branding and, if possible, shooting for your specific industry. If there's another brand that's not a direct competitor whose visual brand is similar to your vision, find the photographer behind that brand's success.
After you find the right photographer, it's a collaborative effort to align on what it means for images to be on-brand. With a professional photographer and a plan, you'll come out of your session with a diverse library of professional images to take your branding to the next level.
Remain Consistent In Your Visual Marketing
Once you establish your visual brand, remain consistent. Every piece of content or ad that you put out needs to be aligned with your message.
One of the easiest ways to lose consistency is by promoting irrelevant content. Make sure you always keep your website updated. That means when new teammates join, you have to add their headshots. When old employees leave, remove their headshots. In general, ensure that no outdated imagery lives on any of your branding assets.
It can be helpful to schedule an annual photoshoot (or some other recurring cadence) to refresh your visuals. You can also plan shoots around specific marketing campaigns to ensure you have high-quality visuals.
How To Make Your Visual Brand Unique And Memorable
It's one thing to establish a visual brand. It takes more than just action to create one that's unique and memorable. In the sections below, I'll give you some tips on how to take your visual branding to the next level so you stand out.
Separate Yourself From Competitors
I mentioned competitive research before. While it's important to understand what competitors are doing, it's even more important to pinpoint what they're not doing. Or what you offer that they don't.
Finding your unique value proposition (UVP) and leveraging that in all of your visual marketing is a surefire way to stand out amongst the competition.
Tell Your Brand Story
One of the best ways to emotionally connect with an audience is through narrative. Your brand story is your greatest asset in promoting your business. It creates a narrative around how you went into business, why you do what you do, and what values you operate by.
Always tie your imagery into the core elements of your brand story.
Remain Authentic To Your Brand
Always remain transparent and honest as a brand. No one is better at smelling out artificial branding than consumers. It's okay to create assets around current events or trends, but you have to make them yours.
The only way to gain the trust of customers, best represent yourself, and establish brand recognition is genuine authenticity.
Build An Emotional Connection
I mentioned this as a reason why visual branding is important, yet it's so easy to miss the mark. Just because you've established your visual brand doesn't mean it's effective. If your visuals don't lead your audience to feel an emotional connection, then you just have visuals – not a visual brand.
This requires deeper concentration and, at times, abstract thinking. You want to form the right emotional connection for your business. If you're a healthcare facility, focus on easing the concerns and fears of your clientele. Reassuring them that through your facility, their concerns will be heard and they will have the best care possible in hopes of a successful treatment.
That's very different from a clothing brand that may try to form an emotional connection through a current trend or more casual messaging.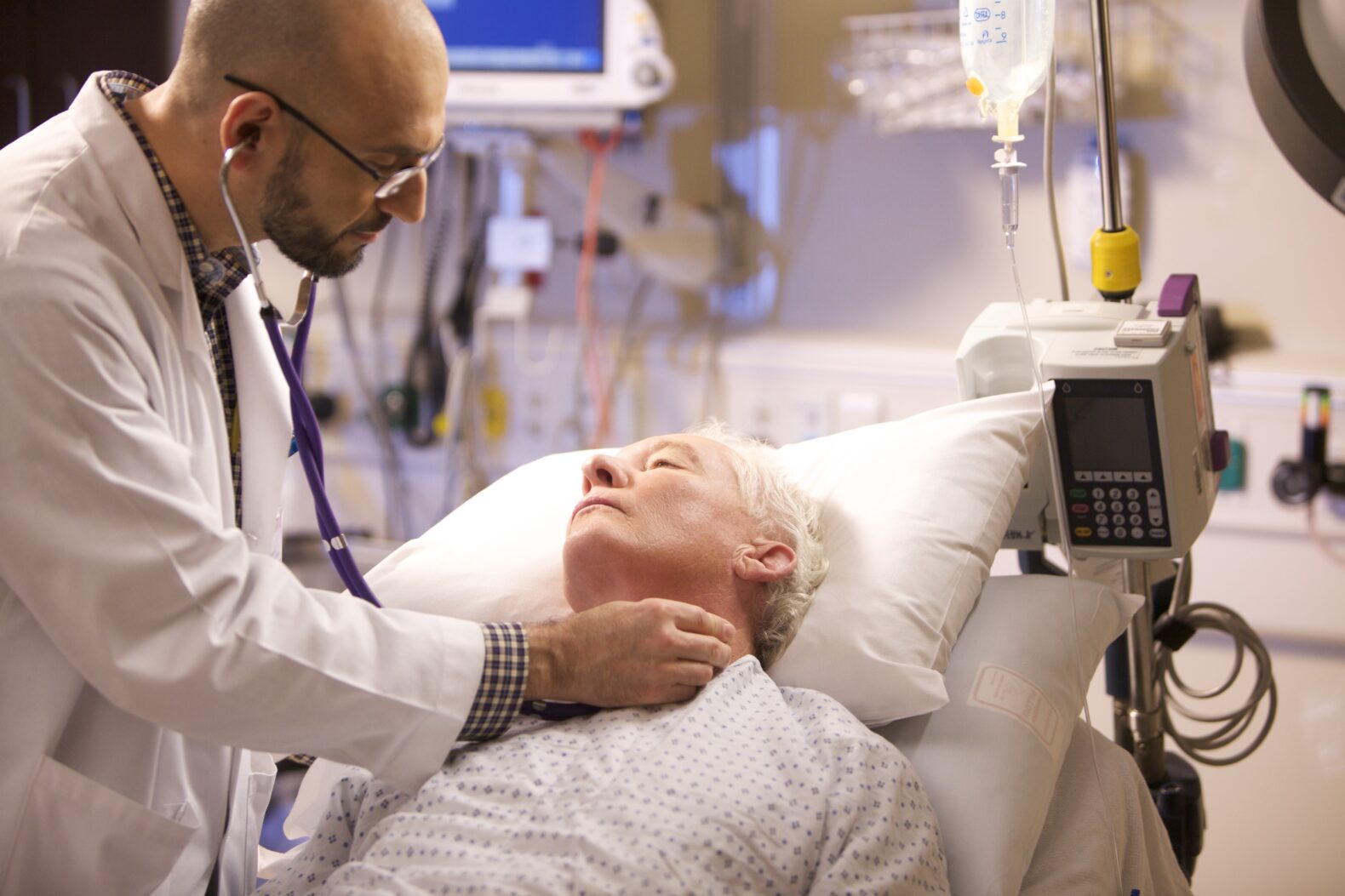 Understand Your Target Audience
To effectively and strategically establish a visual brand, you have to know who you're marketing towards. What are their demographics? Are they located in a specific area? What are their interests, preferences, personality traits, and characteristics?
While you'll cover this in the initial stages of branding, identifying your target audience isn't the game-changer. It's understanding what type of content your target audience is most likely to connect with and tailoring your efforts to meet those requirements.
Visual Branding Examples
I've provided a lot of information about visual branding, but sometimes it's easier to understand through examples. A few strong examples of visual branding include:
Headspace: A meditation app that's focused on less stress and more joy, Headspace has a simplistic visual brand. Featuring a soft yet vibrant color palette and fun illustrated characters, they create a calming and cohesive identity.
Airbnb: A vacation rental service that encourages consumers to see the world, Airbnb's brand is rooted in visuals. From jaw-dropping landscapes of scenic landmarks across the globe to high-detail, extensive preview pictures of their properties – Airbnb's visual brand is a direct representation of their mission to embrace adventure.
While those are just a few, you can do a deep dive into any of your favorite brands and start to dissect the strategy behind their visual branding. 
Enhance Your Visual Brand With Professional Business Photography From Casey Templeton
I hope you now have a better understanding of what visual branding and how important it is for your business. To connect to your audience and separate yourself from the competition, establishing an effective visual branding strategy is a must. 

Casey Templeton Photography provides professional commercial and corporate photography services. Casey has years of technical training behind the lens and experience in branding businesses of all sizes and industries. To learn more about visual branding strategy or to get the ball rolling on a project, fill out a contact form!